Andar Bahar is a popular Indian card game that has origins dating back centuries. Thanks to the digital age, this classic game is now available online at many gambling sites, allowing players everywhere to experience the thrill and excitement of Andar Bahar without ever having to leave home.
Introduction to Andar Bahar: A Brief History of the Game
Andar Bahar (meaning "inside" and "outside" in Hindi) is a simple game that has long been a staple in Indian culture. Historians trace its origins back to the Mughal Empire in the 16th century, where it was played recreationally by the royal class.
Over the years, Andar Bahar grew in popularity across the Indian subcontinent. It became a fixture in village gatherings and festivals as a fun communal activity. Traditional Andar Bahar was played with a handmade wooden board and tiles or cowrie shells for betting.
In modern times, Andar Bahar has transitioned to casinos and card rooms across India. Both land-based and online versions of the game now exist. While the rules have remained unchanged, contemporary Andar Bahar uses cards and chips instead of tiles and shells.
As one of the most beloved card games in India, Andar Bahar offers an authentic cultural experience. Its online availability means this iconic pastime is now open to people from all over the world.
Andar Bahar Online: How to Play the Game
The online version of Andar Bahar closely mirrors the traditional game. Here are the basics of how to play:
Andar Bahar game is played with a standard deck of 52 cards between a dealer and an unlimited number of players.

To start each round, the dealer draws one card from the deck and places it facing up as the "Joker" card.

The remaining cards are then split into two piles: Andar (inside) and Bahar (outside).

Cards are drawn alternately from each pile and placed face-up.

The round ends when a card of the same value as the Joker card is drawn from either pile.

Players can bet on whether this draw will come from Andar or Bahar. Bets close before each new card is revealed.

If a player correctly predicts the pile, they win. If not, the house wins. Payouts are even money (1:1).
Andar Bahar is fast-paced and engaging. With its simple betting options, it appeals to novice and experienced players alike.
Andar Bahar Rules: Understanding the Basics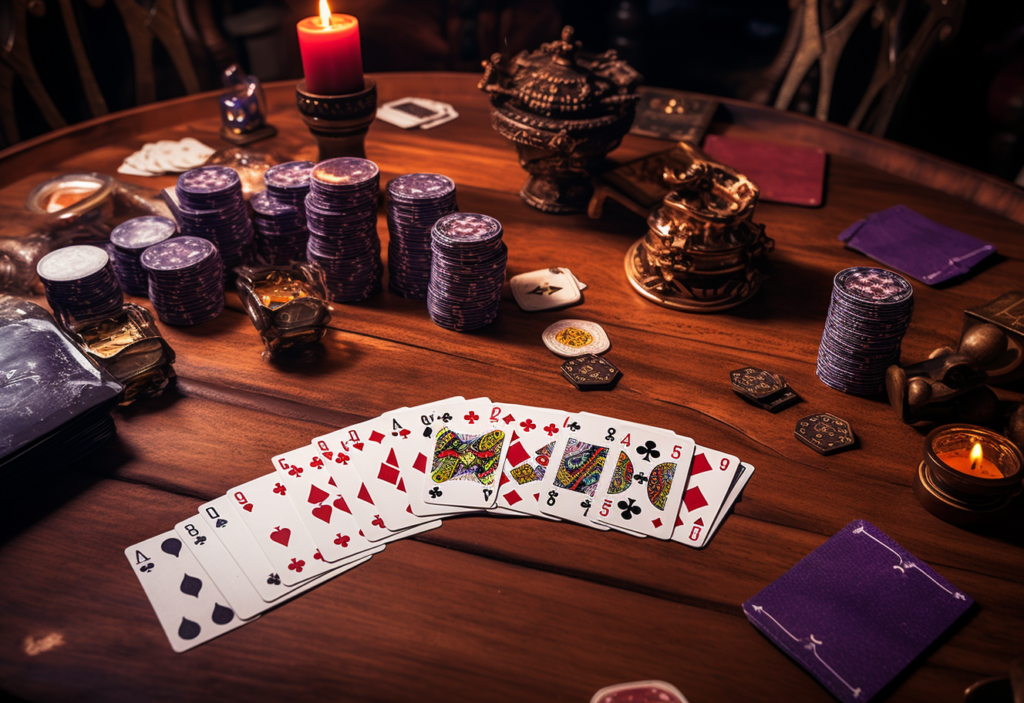 While the gameplay is straightforward, understanding the nuances of Andar Bahar rules is key. Here are some of the basics:
The dealer acts for the house. They draw cards and handle all bets.

Players can only bet on Andar or Bahar – not specific cards or values.

All bets must be placed before the round starts. No new bets can be added mid-round.

If the Joker card appears before a match, the round continues until a match is made.

The house always wins tied bets.

Payouts are 1:1 for winning Andar/Bahar bets. The house may apply a commission on wins.

When card values match, remaining cards in that pile are dead and cannot produce a subsequent match.
Mastering these fundamentals will help you navigate Andar Bahar gameplay confidently when you play online.
Andar Bahar Strategy: Tips and Tricks to Increase Your Chances of Winning
Succeeding at Andar Bahar involves smart betting strategies. Here are some tips to boost your odds:
Observe multiple rounds first to detect any bias between piles. Choose your bets accordingly.

Avoid betting randomly. Look for trends of cards clustered together in a pile to guide your bets.

Don't keep betting on the same pile out of superstition if it loses. Move your bets around.

Manage your bankroll wisely. Don't let emotions make you over-bet.

Apply the Martingale system by doubling bets after a loss to recoup money. But set a loss limit first.

Sometimes, the best strategy is not betting at all. Sit out rounds with no discernible edge.

Don't get distracted from the objective – match the Joker. Ignore card values.
Leveraging these tips, along with practice, can help boost your win percentage over time when playing Andar Bahar online.
Andar Bahar Variations: Different Versions of the Game
The standard real money Andar Bahar game has spawned some popular variations that add complexity:
Lucky 7 Andar Bahar – Only 7s can match the Joker, not other cards. Adds excitement.

Double Patti – Uses two Jokers instead of one. Doubles betting options.

Lower Patti – The Joker can only match cards 2-5, increasing difficulty.

Higher Patti – Opposite of Lower Patti, with the Joker only matching cards 8-Ace.

Andar-Bahar-Bazar – Adds a third 'Bazar' pile to bet on.
Trying these extras brings more diversity to the Andar Bahar experience. They come programmed in many online versions.
Andar Bahar vs. Other Indian Card Games: A Comparison
Andar Bahar stands out from other popular Indian card games in some key ways:
Game | Key Difference |–|–| Teen Patti | Teen Patti involves poker hands. Andar Bahar just matches a single card. Rummy | Rummy players draw and meld cards. Andar Bahar focuses solely on fixed piles. Passewa | Passewa has jokers unknown to players. Andar Bahar's joker is visible from the start. Mang Patta | Mang Patta uses a 6-card layout. Andar Bahar only draws from two piles.
So Andar Bahar distinguishes itself through its singular objective and stripped-down approach focused only on the Joker match. This sets it apart from rummy-style or poker-based Indian card games.
Andar Bahar Online Casinos: Where to Play the Game
Many reputable online casinos now host real money Andar Bahar games. Here are top picks:
LeoVegas – Leading European casino with dedicated Andar Bahar tables and native Indian croupiers.

10CRIC – Popular Indian brand offering Andar Bahar with live dealers and bonuses.

Pure Casino – Specializes in Indian games like Andar Bahar, Teen Patti, cricket and more.

JungleeRummy – In addition to rummy, they provide Andar Bahar and other Indian card game variants.

Royal Panda – Hosts Evolution Gaming's custom-built Andar Bahar live tables.

Pari Match – Transparent, modern and custom-built Andar Bahar online casino tables.
The convenience of online Andar Bahar lets you enjoy India's favourite card game anywhere, anytime. Be sure to gamble responsibly.
Andar Bahar Glossary: Key Terms to Know Before Playing
Learn these crucial Andar Bahar terms:
Andar – Inside pile from which cards are drawn. Betting on this pile is betting a card will match the Joker.

Bahar – Outside pile from which cards are drawn. Betting on this pile is the opposite of betting on Andar.

Joker – The first card drawn that players try to match from the Andar/Bahar piles to win.

Patti – The matching cards. Getting a 'lower patti' means matching with a low value card like a 2 or 3.

Panel – Total cards drawn in a round before a match is made. More panels means a longer round.

Payout – The prize money awarded when a player correctly bets on Andar or Bahar in a round. Usually 1:1.

Dealer – The house representative who deals cards and manages the game. Online this is automated.
Familiarity with these key terms will allow you to learn Andar Bahar faster and understand the mechanics of play seamlessly.
Conclusion
Andar Bahar has stood the test of time as one of India's most iconic and cultural card games. Now the online world has opened up this historically regional pastime to a global audience. Understanding the game's origins, rules, betting options and strategy gives newcomers the knowledge to dive into Andar Bahar confidently. With a range of top India-focused gambling sites catering to this classic game in 2023, players everywhere can now enjoy Andar Bahar from home. Just be sure to gamble responsibly and play within your means when matching cards in this game of skill, odds and luck.
FAQs about Andar Bahar
Q: Is Andar Bahar legal to play online?
A: In most countries, including India, real money Andar Bahar is legal when offered through properly licensed and regulated online gambling platforms. Players must be of legal age to participate.
Q: What's the best Andar Bahar strategy?
A: Observe rounds first to detect any biases. Then leverage trends to guide your bets rather than betting randomly. Manage your bankroll and don't over-bet on emotion.
Q: How do you win at Andar Bahar?
A: There is no foolproof strategy. But making data-driven bets, managing your bankroll wisely, and not falling into habits can help increase your odds.
Q: Is there skill involved in Andar Bahar?
A: Some strategic thinking on when and where to bet gives you an edge. But variance means results are not entirely skill-dependent. Luck also plays a role.
Q: Can Andar Bahar be manipulated?
A: Reputable online casinos use RNGs (random number generators) to ensure fair, random card dealing. This eliminates the possibility of manipulation or biases.
Q: What are the Andar Bahar odds?
A: Odds are generally even (1:1 payout) on both Andar and Bahar bets. The house may have a slight edge on tied bets. But otherwise it is a probability coin-flip.
Q: How do I know Andar Bahar sites are fair?
A: Play only at licensed casinos that hold certifications of being fair and tested by third parties like eCOGRA. This ensures game randomness.
Q: Can I play Andar Bahar on mobile?
A: Yes, many online casinos now offer apps or mobile-optimized sites. This lets you play Andar Bahar on iOS or Android phones and tablets.
Q: What's the best bet size for Andar Bahar?
A: Most experts recommend low or minimum bet sizes. This lets you get more rounds out of your bankroll. Maximize play time rather than big bets.